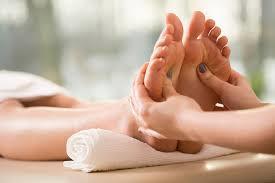 Ayurvedic Foot Massage
The art of Ayurvedic Foot Massage or Padabhyanga, includes a combination of various Swedish Massage techniques, the use of warmed oils, Kasa bowl work to stimulate the Marma (acupressure) points of the feet, and hot towel treatment to end. According to Ayurveda and Reflexology, massaging the feet is akin to massaging the entire body. In addition to encouraging detoxification and restoring the body's energy, this massage helps to promote circulation, a healthy nervous system and restorative sleep. This massage is done with the client resting on the table, fully clothed.
Updated Fee as of September 1st 2021. *Note $5 increase.
60 min/ $110